Spring is in full bloom in sunny South of Spain, and with it also the wedding season has started. And while most of Europe seems to be still wrapped inside a cold wintery blanket I'd like to remember  a very sunny, hot day in July last year that saw Dearbhail & Graham tying the knot in Nerja.
One often hears the phrase "really lovely couple" but Dearbhail & Graham set a whole new standard. I think fantastic would be more fitting!
Dearbhail got ready in the bridal suite at the Hotel El Balcon de Europa. Cava was sent to the girls room to calm any potential nerves but in reality it served to take the edge of the July heat.
With the hotel being 2 minutes from the El Salvador church, Dearbhail, her father and her bridesmaids along with the four flower girls walked the short distance in the Spanish summer sunshine to her wedding.
Music and song was central to the wedding mass with one of the guests singing accompanied by a string quartet and Graham's father singing the Our Father.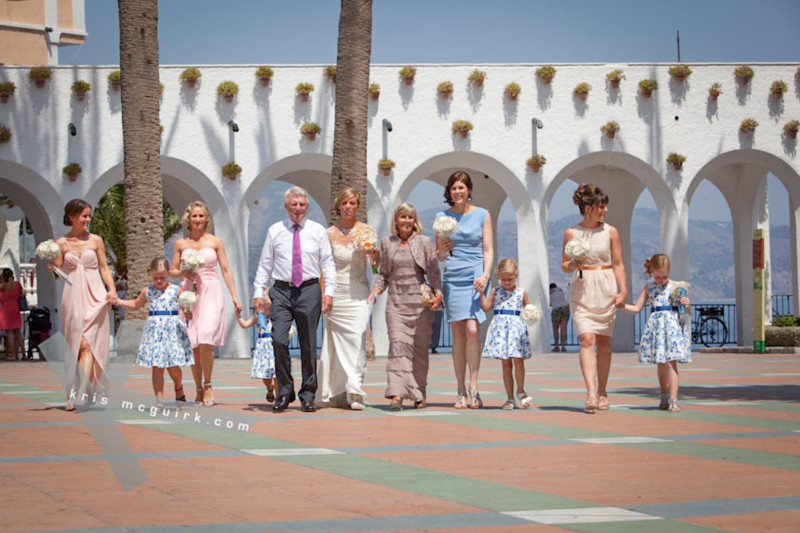 After the ceremony, champagne, canapés and some family portraits followed with entertainment provided by Spanish guitar and a cartoonist.
Myself, Dearbhail and Graham wandered through Nerja's picturesque Old Town with its narrow cobbled streets for some couple portraits. With beautiful architecture at every turn and walls with climbing plants it was a photographer's dream. The tiny cobbled streets and alleyways were beautifully shaded and provided a welcome break from the heat of the day.
The wedding reception was held on the beach terrace of the hotel, a few steps from the Mediterranean and with a painted sunset sky for backdrop to the evening which of course I had to take advantage for more photos on the beach….
Back at the Hotel, the dinner was so full of joy, with everybody enjoying the beautiful food and the relaxed atmosphere. Graham's father then really stole the show, when he not only serenaded the wedding party but all of the guests of the hotel with his fabulous voice.
After dinner it was again time for some music with Dani and his dancers pumping up the tempo with their amazing high energy flamenco show.
I must say that this day was made  perfect not just by the warmth of the couple and the easiness with which they enjoyed the day along with their families and friends  but also by the professional touch of their wedding planner Sonya  from Nerja Weddings By Sonya who really did an amazing job. She's certainly a true perfectionist.