How to choose a wedding photographer
The quality of the images and professional expertise is obviously optimum. But there are also other, more subtle aspects to be taken into consideration….
Personal chemistry plays its part as well. You need to take into account, not only practical skills but also personality. Your photographer will be around you for most of the day, mingling with your guests, recording informal as well as the formal aspects of the event. You should be completely comfortable with this arrangement. An ability to fit in without being intrusive and the confidence to put people at their ease is the least you should expect. In this instance a substantial dose of celtic charm never goes amiss.
Wedding Photography Planning
Kris McGuirk meets all his clients prior to the wedding to work out a timeline for the day itself. This sets up a framework for the images to be captured and make sure that absolutely nothing is overlooked. Your photographer will play a KEY role in the day. How do you want that all important day to be presented? What is it that you want the finished product to do? Tell a story? Express your personality? Evoke an atmosphere? Capture an important family occasion? Impress your friends? Or simply show your nearest and dearest having a jolly good knees up?
Kris uses the initial interview as a vital starting point, an opportunity to chat, discuss, reject, explore what's on offer, what's possible (and what isn't). It's a chance to take notes. To record the client's preferences. So that you both know what's required. So there are no misconceptions.
Wedding Photography Tips
Allow your photographer to advise and guide you. About the venue, the time of day, the position of the sun. Leave the technicalities to the expert. Use his knowledge and experience. Trust that he will give you the best of the best. This is why you've hired him, to lift one area of responsibility from your shoulders. But it's vital that you both know where you're coming from so…
Tip 1 – Formal photographs
One of Kris' key tips is to ask the happy couple to provide a list of formal photographs in advance. On the day he can then liaise with a family member, a bridesmaid or best man, to round up the relevant suspects. This speeds up the whole process meaning less time away from the party. It also ensures that no one is left out by mistake.
Tip 2 – Liason with other professionals
Your timeline is also a useful tool for your wedding planner or reception/banqueting manager, providing them with an overview of your plans for the day and allowing them to dovetail their own part accordingly.
Kris McGuirk collaborates with various planners and co-ordinators including AWOL, Bella Weddings in Spain, Celebrations in Spain, Costa del Sol Events, Crystal Events Barcelona, Dream Weddings in Spain, Fiesta Sol, Marriage Wedding Services, Marbella Wedding Options, Nerja Weddings by Sonya, Perfect Spanish Weddings, Spanish Dream Weddings and Wedding Services Spain.
The finished product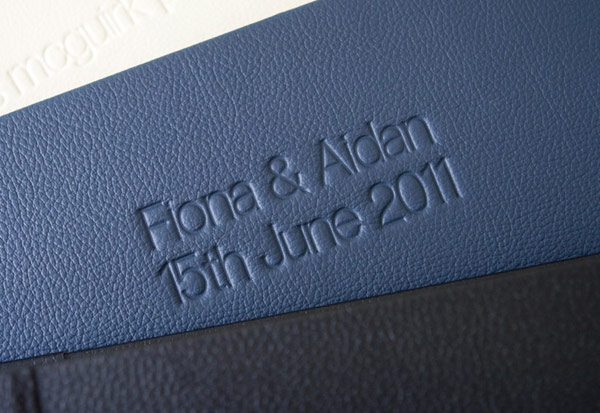 Armed with all this prior information Kris can then give the occasion his own creative spin and deliver a wedding album which is as personal as it is unique.
Wedding Photography Albums
There are a wide variety of wedding albums on offer to suit most budgets. All have individually designed layouts. No two will ever be the same. Each album is totally exclusive, the magic of an unforgettable day captured in the timeless magic of Kris' camera lens.
The range includes a selection of coffee table books finished in portrait, square and landscape formats, hand finished in Italian leather in a choice of nine different colours. Matching parents / grandparents albums are also available to accompany the main album.
Or should you prefer Kris can also supply a selection of leather book bound contemporary wedding albums, handmade in the England. These are available in either square or landscape formats in a choice of colour leather finishes.
Each hand printed image is individually mounted and overlaid, making the finished product a labour of love from a master of his craft.
[bxslider id="wedding-photography"]
Wedding Photography Prints
Over the years we have developed relationships with some of the best photographic labs in the world. We recommend processing and printing by Metro Imaging (www.metroimaging.co.uk) in London or GMS Professional Imaging (www.gms.ie) in Dublin. With almost fifty years experience between them reproducing images to the highest professional standards, ensuring that your memories are there for a lifetime.
Wedding Photography Packages
Our mission is to provide the highest quality photographic services and products for the best possible price.
As such, we have sourced albums from a selection of exclusive manufacturers across the world.
We recognize that every couple and wedding is unique and therefore, we design and tailor our services and packages to the individual couple's requirements. We work with a number of companies that produce bespoke albums, giving our clients the best possible choice in styles and finishes, from classic natural grain leather to contemporary acrylic and metal finishes.
We edit all of our wedding images in house, supplying our clients with a selection of the best images from their wedding day. To help our clients choose the images that they would like to include in the wedding albums, all of our clients receive contacts sheets, a proof disk and all of their images are also uploaded to the password protected client area of our website ensuring that access is always available.
For more information regarding available packages please send us an email.
Need advice or have a query ?
If you would like to discuss your ideas for your special day why not email Kris directly with your questions.
Should you prefer to discuss your special day directly please feel free to contact me on either of the telephone numbers below.
Ireland: +353 86 353 4907
Spain: +34 697 834 945